The Trustees of Funds & Endowments works with a variety of individuals and ministries associated with the Episcopal Diocese of Milwaukee. From time to time, we'd like to highlight some of the ways TFE assists and supports works of love and service.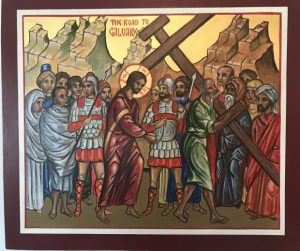 The Simon of Cyrene Fund
Simon of Cyrene is identified in the gospels as the passerby who was compelled to carry the cross of Jesus on the way to Golgotha. Because of this, Simon of Cyrene is a potent symbol of bearing one another's burdens. Sometimes we can help to carry another's burden. Sometimes, we need others to help us bear a heavy load.
Deacon Antoine Linterieur was deeply aware of the heavy burdens humans sometimes must bear. He personally struggled with bipolar disorder for more than 60 years, and took seriously the care of those battling mental health issues and other crushing loads. During his life, he served as Episcopal Chaplain for the Mental Health Division of Milwaukee County; ran mental health support groups; and helped to found Our Space, Inc., a Milwaukee community living support service and mental health drop-in center. In 2006, Rev. Linterieur set up the Simon of Cyrene Fund to provide financial assistance for organizations helping those dealing with hunger and mental health issues in the Milwaukee area.
Rev. Linterieur founded the Simon of Cyrene Fund to extend his service to the people of Milwaukee beyond his own lifetime. It was not a huge fund, at the beginning. It didn't have to be. It was a seed, and the seed grew over time as more funds were added and the fund gained value. When the fund reached a specified amount, it began making distributions, according to the guidance of Rev. Linterieur. When he died on October 10, 2018, at age 78, the Simon of Cyrene Fund was well established and was making regular distributions. In addition, at his death Rev. Linterieur's family requested memorials be directed to the Simon of Cyrene Fund, as a way to honor and uphold his legacy. TFE will continue to identify ministries and agencies to receive distributions from the Simon of Cyrene Fund for many years to come.
We hope you are inspired by Rev. Linterieur's dedication to helping others and see in him an example of love and charity. If you have questions about the Simon of Cyrene Fund or would like to know more about this type of fund, please direct your questions to TFE's Executive Director, Jill Heller, at (262) 902–5901 or director@tfemil.org